NOS Defi Defi-Link Advance Control Unit
NOS Defi Defi-Link Advance Control UnitSpecifications in mm (inches)
ADVANCE Control Unit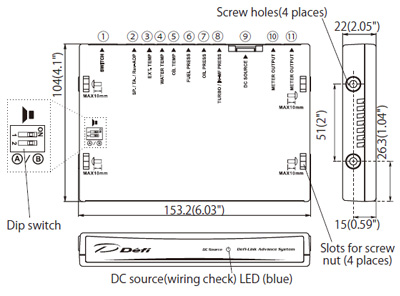 | | |
| --- | --- |
| 1 | Switch unit(white) |
| 2 | Speed & Tachometer signal wire(blue) |
| 3 | Exhaust temp sensor wire(black) |
| 4 | Water temp sensor wire(pink) |
| 5 | Oil temp sensor wire(red) |
| 6 | Fuel press sensor wire(red) |
| 7 | Oil press sensor wire(white) |
| 8 | Turbo/In-Mani sensor wire(light blue) |
| 9 | Power source wire(beige) |
| 10 | Meter wire(white) |
| 11 | Meter wire(white) |
Switch unit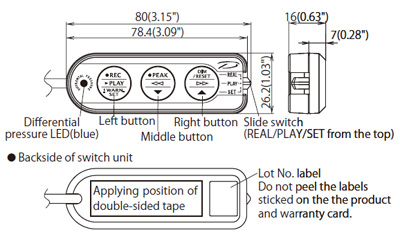 Other specifications
Power supply
voltage
10V to 16V DC (12V vehicle only)
Current consumption
Maximum during 7 gauges are connected
+B 2A(IGN ON), 5mA(IGN OFF)
ILM 800mA
Applicable number of cylinders
1,2,3,4,5,6,8
Note
*Products is for only on vehicles with a 12V electrical system. Never use products on 24V vehicles.
*Products can not be installed in altered vehicles.
*To install pressure gauges or temperature gauges, proper sensor attachments are necessary. The thread sizes of sensors are 1/8PT.
---
Brand: Defi
Product Code: DF07701
Availability: In Stock
---